Do you know how to create the right app store description that helps potential users to understand what your app is all about and convince them to download your app? If yes, then you came to the right place!
No doubt; developing your app is only half of the work. With millions of apps in the Apple App Store, it is not difficult to see how quickly your newly published app will be ignored and forgotten.
This is the main reason that you should have a great, compelling, and effective description app. Thankfully, you don't have to search far and wide to know how to create the right app store description for you.
Read on because this definitive guide comes with app store description guidelines to help you grow your app ranking!
What is the app store description?
The app store description is perhaps the most important part of your app store optimization (ASO) strategies. As its name suggests, the app store description is where you are given the opportunity to describe and promote your app.
The app store description character limit allows you to use up to 4,000 characters, which is about 500 words.
It's worth noting that the character limits on iOS and Android app stores are the same. One big difference though is that on iOS, keywords are not indexed by search engines. This is not the case in the Google App Store where keywords mentioned in your app store description would get indexed, which will affect the page ranking of your app store page.
To understand the importance of app description, imagine this:
A potential customer or user has been exploring the app store. He saw your icon and got interested in your app. He tapped on the icon and he was redirected to your app store page.
So far, so good, right?
He is now looking at the screenshots. However, as he scrolled down your app page, looked at the description, and read it, his interest seemed to slowly disappear. He simply flew over your app store description and hit the back button.
The user went away and downloaded a similar app — never to be seen again.
Sounds like a sad story for every app developer and owner, would you agree?
As you can see. If there's one thing that converts a potential user to an actual user, it can be your app description.
What is the main goal of the app store description?
In its core, the app store description gives you the opportunity to describe your app. Its main goal is not to simply tell users what your app is all about, but to convince them to download your app and become loyal users.
Here are some of the primary goals of the app store description:
Grab people's attention.
Introduce your app to potential users, marketers, and influencers.
Share the features of your apps.
Improve your app ranking.
Give people reasons to use the app.
Provide instructions on how to use the app.
Increase download rates.
As you can see, the app description should never be underestimated. It can hold the key to your app's success. If done right, you can dramatically increase your app's popularity, ranking, and performance.
Identify the need and desire of your target audience
To truly create a compelling and powerful app description, you should first know who your target audience is. Of course, well before you have started creating your app, you should have already identified who your target audience is and what their needs and desires are. Failure to do so would make it a lot more difficult to promote your app in the future.
So, now, assuming that you have done your assignment, it is time to capitalize on those needs and desires. Ideally, your app is there to meet those needs and desires to ensure there's a demand for your product or service.
Here are some questions you need to ask to guide you:
What are the problems, needs, and/or desires my target audience have?
How can my app provide a solution to their problem, meet their needs, or fulfill their desires?
What reasons can I give to my users to download my app and eventually pay for it?
These three questions are crucial in ensuring you have an app that people need and want. If people don't see the value of your app, you will not be able to convince them to download your app, let alone pay you for it.
Once you have identified the wants, needs, and desires of your target audience, you can then include that in your app description. You must succinctly and clearly explain in your description how your app can meet their needs and solve their problems.
Here's one of the best app description examples that know the needs of users and how their app can meet those needs.
As you can see, Habit Keeper's main target audience would be people who like to start and sustain a habit. We all know how difficult that can be and how it can often lead to frustrations. Thus, Habit Keeper's main selling point is to make it super easy for people to "track and manage habits."
Remember, when people see your app, they subconsciously ask themselves, "What's in it for me?" If your description could clearly tell your target audience how they can benefit by installing your app, then you got yourself a new user!
Establish an emotional connection in your app store description
Another important element of a best selling app description would be to connect with your users emotionally. Now, you don't have to be too dramatic to accomplish this. All you need to do is to ensure that you are able to elicit an emotional reaction from your readers to help them appreciate what your app can do for them.
Bear in mind this important principle in marketing: people buy with their emotions and justify it with their logic.
In the same manner, people will download your app if you are able to appeal to their emotions.
There are a lot of ways to establish an emotional connection. For example, you can identify a problem of your users and how that hurts them a lot. Think about how that problem is hindering them to achieve their goals. After that, you can then relate how your app can solve their problem and make them happier, experience convenience, and feel good.
There are a lot of apps in the App Store that use this technique. However, among them that made the best impact would be Instagram. Notice how they use emotional connections in their app description:
The deep need for people to get connected socially is where Instagram builds their app description. They opened their app description with "Bringing you closer to the people and things you love."
Who wouldn't want to be close to the people and things they love? Of course, everyone and so, everyone can relate to their app, and thus, this drives more downloads.
Get inspiration from Instagram's description to ensure you appeal to your audience's emotion.
Identify reasons your audience should use your app and capitalize on that
There are a lot of reasons why people download and use an app. When you know those reasons and mention them to your description, you increase the chance of your app being downloaded. You can revolve around your description for these reasons so people will surely give your app a try.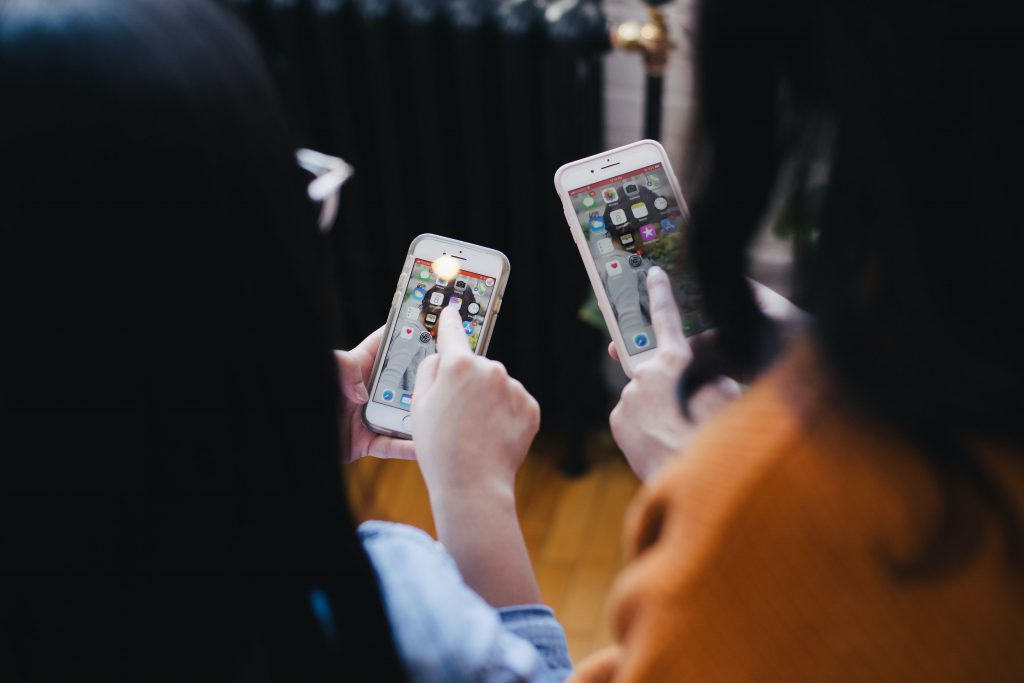 Here are some reasons people use an app:
An app meets their needs.
An app fulfills their desires.
An app offers convenience.
An app serves as a better alternative to an app they already have.
An app offers something that is scarce and limited.
An app gives people the chance to be popular and influential.
An app offers a cheaper price or rate.
An app offers great value.
A celebrity or someone well-known endorses an app.
An app helps other people impress or attract others.
An app helps them feel good.
An app is free.
If you can use any of these reasons and relate them to your app, people will most likely download your app. So, include these in your app description as well.
Think about some of the most popular apps today. Why would people use them?
Why would people use Facebook? Because it meets their need for social connections.
Why would people use Tik Tok? Because it helps them become famous.
Why would people use YouTube? Because it entertains them.
Why would people use the Uber app? Because it helps them get around.
Why would people use PicsArt Photo Studio? Because they want to edit photos.
As you can see, in every app download, there's a reason. If you can identify the right reason for people to use your app and describe that into your app description, then you'll have more downloads.
Find & know your competitors
If you are just starting out, it is most likely that someone has already developed an app similar to yours. After all, if there's a demand for something, someone must have already provided a solution for it.
Don't let this discourage you. You may be starting from scratch, but that's an advantage for you. The first thing you need to do is check who your competitors are. Study how their apps work and how you can copy that in your own app, but this time, in a much better and improved manner.
You simply have to take advantage of their shortcomings and weaknesses. Determine where they are not delivering and that's where you get in.
In your app description, include what makes you different from your competitors. Tell them what makes your app unique and how it offers a better solution than what is already in the app store. When you successfully draw the contrast and make your uniqueness and relevance stand out, you'll have more downloads than you have ever expected.
Add testimonials or social proof to your app store description
Since we are social beings, we tend to base our decision on what others have experienced. That's why word of mouth and referrals are highly effective when convincing people to download your app. When potential users see that other people are happy with your app, then they will give your app a try.
So, what are the things you can include? Here are some of them:
Include positive reviews.
Include websites or blogs that have mentioned or featured your app.
Include companies, influencers, or prominent people who endorse your app.
Of course, it is undeniable that you may have limited numbers of testimonials especially when you are simply starting. In this case, you can include ordinary people who have already used your app. If possible, let other people use your app for free so you can have more reviews to feature on your app store page.
Let us give you a good example of using social proof and how to use this in your app description. Here's how Todoist, a productivity app, has done it:
As you can see, Todoist immediately highlighted the fact that they already have more than four million users. If that's not enough, they also mention reviews from The Guardian, USA Today, Forbes, The Wall Street Journal, the New York Times, and Lifehacker! Now, that's a lot of social proofs that are difficult to beat.
Don't skip this part. Testimonials, reviews, referrals, and social proofs are important to build your credibility.
Put a lot of thought in your introduction
Here's something you need to know: people can only see the first 3 lines or 225 characters of your app feature description unless they click or tap on the "see more" link. It acts as an app store description preview. This is a crucial piece of information for your app's success.
The first three lines of your app should:
Give your audience a good idea of what your app is all about.
Identify your audience's wants, needs, and/or desires your app can meet and solve.
Convince your target audience to continue reading and ultimately use your app.
Flipboard's app description is a good example of having a great introduction. As you can see, the first two sentences succinctly and effectively tell the users what their app is all about.
In their introduction, they have included a lot of important elements that make an app description more compelling. You'll see how the app description comes with social proof, features, benefits, problems, and solutions, and others.
If you can write an introduction like this, people would more likely click on the "More" link and eventually download your app.
Here's a hard fact: most people don't really like to read unless you can convince them to care about your description. Remember that first impression lasts and let your introduction give the best impression for your app.
State your app's features
Obviously, your app description won't be complete without mentioning its powerful features. If possible, talk more about the main features of your app, especially how these features can solve your audience's problems or fulfill their desires.
Here's a good example of an app description that includes the main features. This is the Hotels.com app.
As you can see, they have divided their app description according to features. Later, you can then talk about the secondary app features. When listing the features of your app, use bullets to make your description readable and scannable, which leads us to the next point.
Make your description readable and understandable
It is undeniable that people nowadays have a shorter attention span. This is especially true when they face an electronic device. That's why it is important that you don't overwhelm and bore them with big blocks of words.
Make sure your paragraphs are only made up of about 1-3 sentences. Whenever possible, use bullets to help users read through your description with ease.
A good example would be the YouTube Music app description. You can see how they have efficiently used bullets and smaller chunks of paragraphs to make their app store description more readable.
Moreover, don't use technical, highfalutin, and pompous words. People are rarely impressed with those. Instead, use easy to read and understand words, so they can quickly know what your app is and what it can do for them. Get rid of fluffs, cliches, jargon, and words that don't add value to your description.
Finally, if your app is part of your overall brand, then make sure your app description follows the tone and personality of your brand. This allows you to stay consistent across all your platforms.
Localize your app description
If you want to scale up and expand your target audience, then you should consider localizing your app. Not only that, but it is fairly known that there are a huge number of apps today on the Apple App Store that get so much profit from non-English speaking countries. So, you should consider localizing your app as one of our app description tips.
Now, once you have decided to make your app available to other languages, you must make sure you localize your app description for each of the countries you choose. You can even translate not just your description, but even your app name.
So, how does this work? First, after you have added your app to your account, you can immediately add foreign languages. Moreover, you should enter your localized metadata on your App Information page. Add localized keywords as well in your description.
There are tens of languages that are supported by the iOS App Store. Here's a full list of them. After setting up, make sure you choose your primary language, too.
Your translated app description should be flawless. Don't simply use Google translate. Let a native speaker translate it for you.
Avoid keyword stuffing
It is true that you can add targeted keywords in your app description, but one thing that you shouldn't do: keyword stuffing. Part of learning how to write an app description is to never do what's going to hurt your app's performance.
Keyword stuffing will do you more harm than good. Not only it is a poor ASO technique, but it will also turn off your readers as your description reads unnaturally.
Remember, you write first to humans, not to robots and algorithms.
Of course, please note that though keyword stuffing may not be encouraged, it won't hurt to still include keywords but in the most natural way. If you can't do it, then don't add keywords anymore. After all, Apple does not index keywords found in your app description.
If you are writing app description on your Android app, then aim to repeat a keyword about five times. As always, Google search engine is big on checking your Android app description for keywords to help users find relevant apps.
Include required information
There are certain things you need to include in your app description if you want to comply with Apple App Store description guidelines. Chief among them is adding details about your in-app purchases or subscription.
Here's an example from 8fit Pro:
If your app doesn't have this, then you can simply skip it. But if your app comes with services or products being sold, then you should devote part of your description in describing them.
Call to action
Now that you have your readers all warmed up, you don't want to leave them hanging in the air. You need to leave a call to action. This can be a simple line as "download our app now to (insert benefits here)."
Take a look a the call to action of YouTube:
This call to action is clear. YouTube wants you to download their app. Not only that, but it also states why they should download it by saying, "start watching your favorite videos." By adding the word "today," the call to action becomes more urgent. If you want, you can study YouTube's app page and use it as your description template.
Calls to action are important because they lead your users to the next step. It helps your users do what you want them to do and how to do it.
Include "what's new" section
If you want to stay on top of the competition, you need to regularly update your app. With this, you must have a "What's new?" section, which is usually added below your app description.
The "What's new?" section can include updates, new features, improved functionalities, changed user interface appearance, and bug fixes. Please note as well that this section isn't indexed by Apple, but it's a great way to inform users about your app's update.
Evaluate and improve
Writing your app description is not a one-time task. You should regularly evaluate and improve it so you get better results. Since the app market changes every once in a while and new competitors may arrive, it is crucial that you also change your app description to meet current needs and trends.
At this point, it is worth noting that there are tools you can use to accurately evaluate your app description performance instead of blindly guessing what goes wrong and what goes right.
One highly recommended software to evaluate your app description would be Metrikal. It allows you to monitor your impression-to-install and pageview-to-install conversion rates. With Metrikal, you can see and track the impact of your app description changes on your conversion rates.
Indispensable elements of a great app description
This blog is kind of long as it is a definitive guide in writing an app description. However, to help you get a general overview of what we have discussed, here is a list of the elements of a great app description:
Discuss the benefits of using your app.
Have an attention-grabbing introduction.
Include reviews, testimonials, and social proofs.
Highlight features, achievements, and awards.
Paragraphs contain 1-3 sentences.
Use bullets if necessary.
Tell a story to appeal to emotion.
Easy to read and understand.
Create the best app store description
Your app store page does have a lot of elements that come into play to make sure your app will succeed. No doubt: the app description is a crucial piece of your app. That's why you need to pay special attention to your app description from its smallest to biggest detail. Every word counts.
On this blog, you have read how to optimize app store description. Use this guide to ensure you communicate the most important aspects of your app and how your app can benefit your users. Use your app description as your main tool to convince people to click on that shiny "Install" button.