What is the relationship between SEO and ASO? Why is deep linking important to increase the visibility of your app? Most importantly, how can you combine your SEO and ASO efforts to maximize the advantage of both of them? These are just some of the vital questions you will learn in this post.
Fierce competition in the App Store and Google Play
Think about this for a second: There are millions of mobile apps available to download today.
Take a look at this table from Statista. It shows that there are over 3 million apps in Google Play while there are more than 2 million apps in the App Store. On top of that, there are more than 1 million apps in the Windows Store and Amazon Appstore together.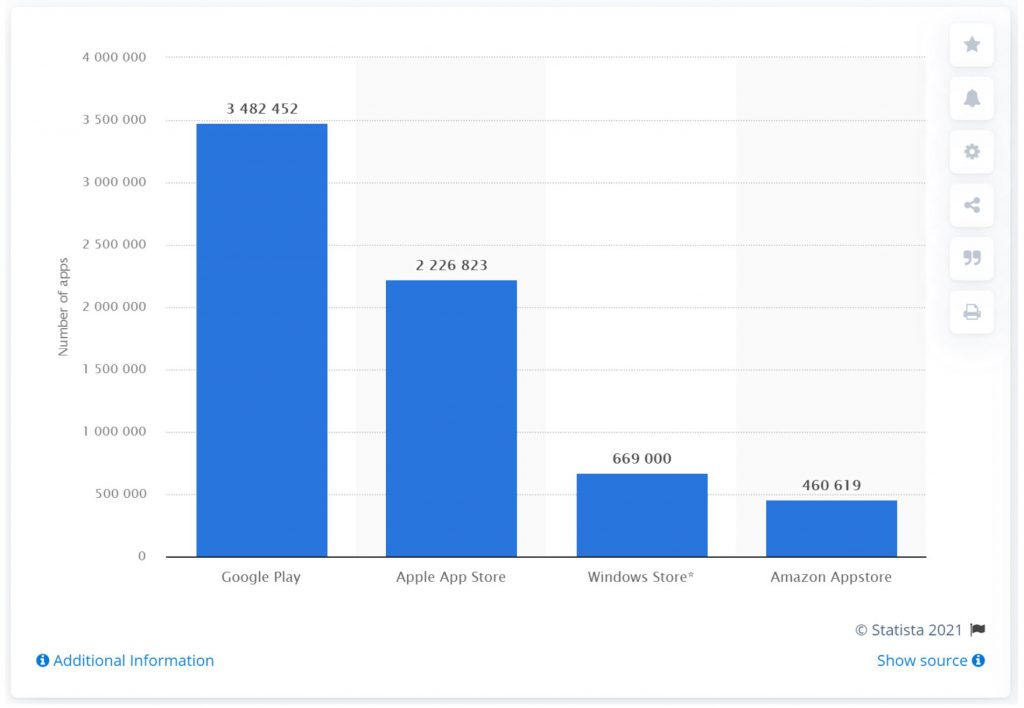 Each of these apps strives to be on top of the chart. Most of them work hard to grab people's attention and get their loyalty. Thus, it is not difficult to see that whenever you see an opportunity to gain the upper hand, you need to grab it and that opportunity is deep linking.
What is deep linking for mobile apps?
Deep linking is the practice of using Search Engine Results Pages (SERPs) to redirect people to use a specific app. It's an effective method to bring people from the web to the app store.
What deep linking actually "links" are mobile apps and search engines. It's a perfect place where ASO and SEO meet.
How does deep linking work?
Deep linking works in different ways, depending on which device you use and whether you have already installed a specific app or not.
So, let's break it down.
Deep linking in web results
When you're looking for a specific app on the web, you will see a direct link leading to the App Store.
For example, if you're going to search for "Instagram" on Google, you will most likely receive the search result below: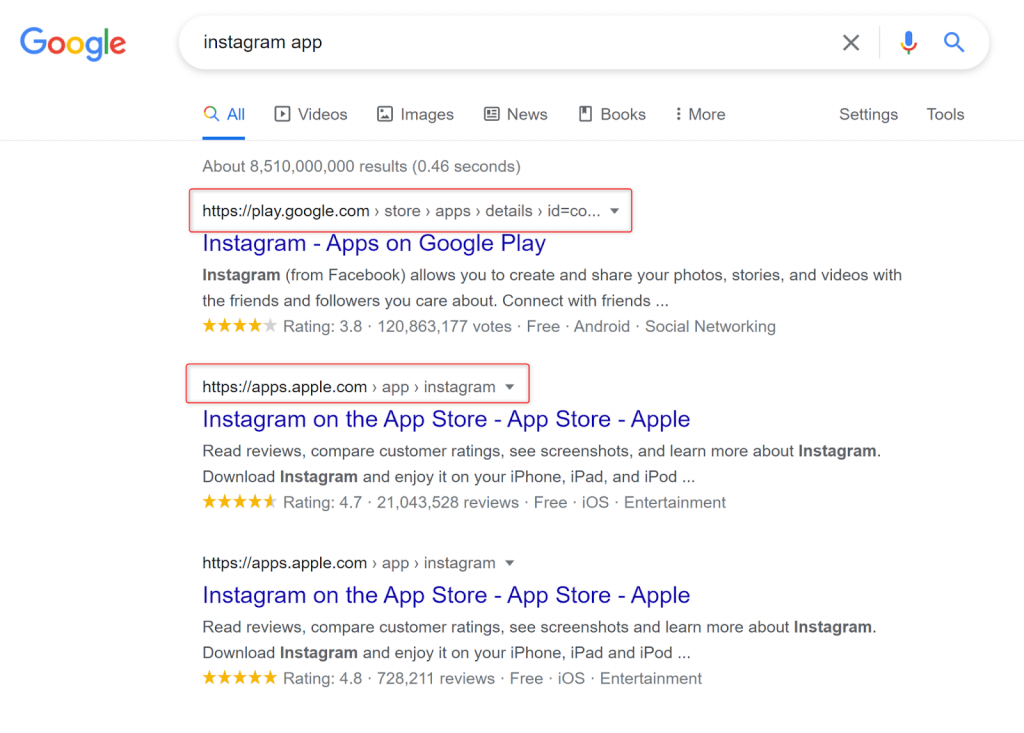 The top results show links directing to Google Play and App Store.
When you click on the first link, it will lead you to Google Play where you can download the app for your Android device, and the same scenario for the second link if you are using an iPhone.
Deep linking in mobile search results
When deep linking is done in mobile search results, there are at least two possible scenarios.
Scenario 1: App isn't installed yet
Let's say you are trying to look for a "booking app" on your phone. You will most likely receive a search result that looks like the screenshot below:

You'll find search results for booking apps, and you are given the option to download the app.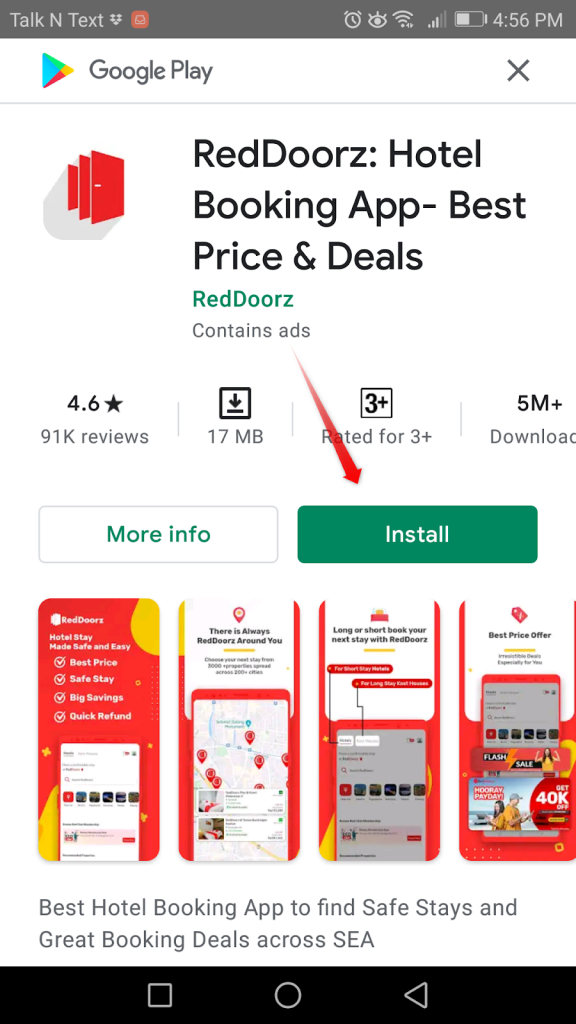 When you hit the "Install" button from the search result, you'll be redirected to Google Play Store and you can actually install the app.
Scenario 2: App is installed already
Search results would differ if you search for a specific app that is already installed on your mobile device.
For example, if you search "Pocket reader app," but you already have it on your phone, here's how it would look like: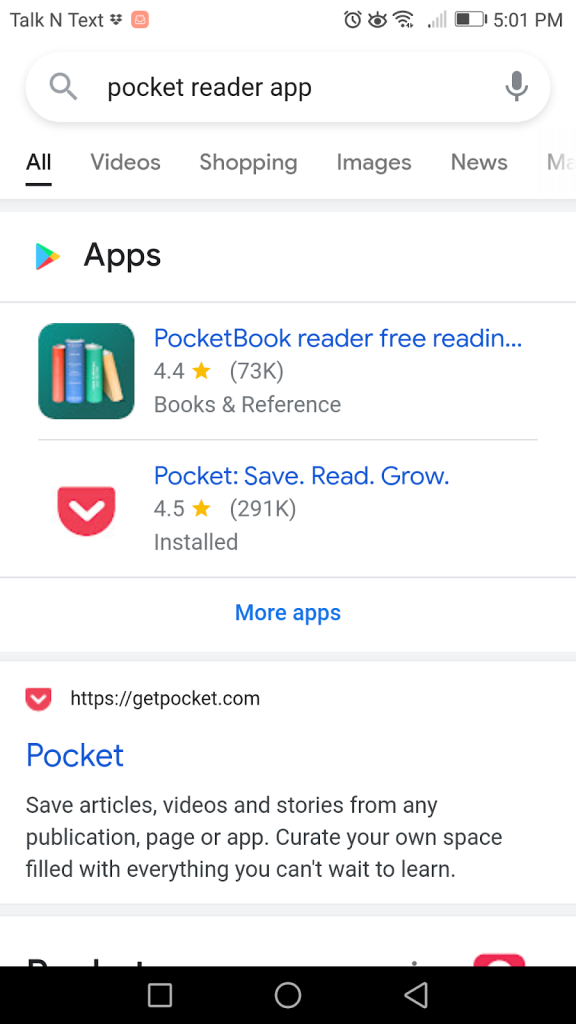 The Pocket app is indicated as "Installed." You can still tap on the link and it will automatically open your app instead of redirecting you to Google Play Store or Apple App Store.
Why should you do deep linking?
Now that you know what deep linking is and how it works, you should now have a better idea of its benefits — which gives you more reasons why you should be doing deep linking.
Here are some of the benefits of deep linking to your application:
Increased visibility – deep linking allows you to get discovered not just on app stores, but also on web search results.
Ease of use – deep linking makes it super easy for people to download your app. Users don't have to go from internet browsers to app stores manually.
More traffic, installs, and conversions – with increased visibility and ease of use, you can expect that more people will visit your App Store page. Therefore, this will inevitably increase the number of people downloading your app. Increased number of installs lead to several other opportunities for your app's growth.
Improved app engagement – deep linking is a great way to remind your users that what they are looking for on the web is something that your app can do.
Higher rankings in the app stores – this is primarily applicable to Google Play. If you rank higher on the Google search engine, then it will also influence your ranking in Google Play.
If you wish to enjoy these benefits, then you got to try deep linking. But how? This leads us to the next discussion.
How to do deep linking
The process of deep linking would depend on which app store you're targeting. Let's start with Google Play.
You would need to enable deep linking within your app on Android. This is done by manipulating the code for your app so that it can better respond to Google's request whenever the app is relevant to the user's query.
Now, this is a complicated process, which can be a huge topic in and of itself. For now, you need to check Google's developers' support to better understand this process.
When it comes to Apple, app indexing is done with the Universal Links feature. With this feature, an app in the App Store can connect to Siri search, Spotlight, and Safari.
Combining SEO and ASO for the success of your app
Search engine optimization (SEO) is the process of improving the rankings of web pages. On the other hand, app search optimization (ASO) is the process of improving the rankings of mobile apps.
SEO is used in search engines such as Google, Yahoo!, and Bing. ASO is used in app stores such as the App Store and Google Play.
While it is true that most users find an app through an app store's search feature and browser, you should not ignore what SEO can do for you.
As you might have already seen through the discussion of deep linking, SEO has the power to provide you additional visibility and downloads. Not all users are in the app store and when they search through the web, you would be happy that your app would appear on the search result.
How to use SEO for your app
The best way to use SEO for your app is by creating your website. Once you have a website, search engines can include it in the search results.
To ensure you appear in top results, you must add fresh and helpful content to your website. You need to use SEO techniques to increase your website's visibility.
Once you have visitors into your website, you need to make sure that you lead them to your app store page, where they can eventually download your app.
Use deep linking today
ASO is your main tool to ensure that your business gets noticed in a massively competitive world of mobile apps. However, it doesn't mean that you should only use ASO. There are other amazing methods and tools that you can utilize to stay on top of your competition.
When you combine your ASO efforts with SEO strategies to perform deep linking, you should see significant growth in your traffic, download, and conversion.
If you would like to monitor the important metrics for your app while trying different strategies, start a free trial on Metrikal today and see how your app is doing week over week.