Do you want to know what app localization can do for the success of your mobile application? If yes, you came to the right place!
It is no secret that having an awesome and powerful app is not enough. No matter how wonderful and impressive your app might be, it won't succeed if you don't hear anything but crickets.
People should know about the existence of your app before they can use it.
You need to make sure that your app is discoverable and visible to the eyes of your target audience. If not, then your precious app will soon descend to oblivion.
So, what should you do to improve your app ranking and increase its downloads? The answer is App Search Optimization or simply, ASO.
ASO aims to improve the discoverability of your app and ensure it gets downloaded and used by as many people as possible.
Now, there are a lot of elements that make up an effective ASO campaign, but what we are going to discuss today will be app localization.
You might ask, "What is app localization?"
"How can it help in improving the success of your app?"
"Most importantly, why should you do app localization?"
These are the vital questions we are going to answer today. So, keep reading because app localization might be the only missing piece of your ASO's ultimate success.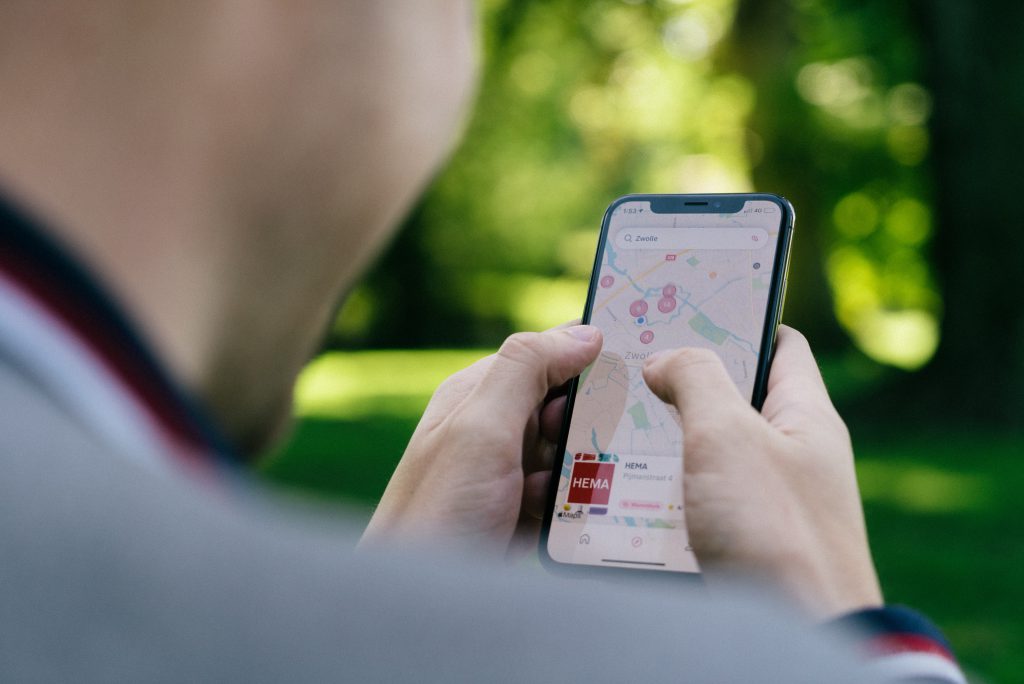 What is app localization?
Let me give you a simple and easy to understand definition:
App localization is the process of designing your app so that it can easily be used and adapted by people of various cultural, geographical, and linguistic backgrounds.
Basically, app localization tries to "localize" an app so that it can readily be used by a certain group of people. So, with app localization, it could mean that your app would have different titles depending on which group it is presented.
App localization does not only mean the changing of language to suit a particular audience, but it could also mean changing app descriptions, graphics, images, videos, and icons to make the app more "at home" to a certain geography.
What is the difference between App Localization and App Internationalization?
When talking about app localization, we must also take a quick look at what app internalization is. Oftentimes, people think that they are one and the same while others confuse one with the other.
So, let's settle this matter once and for all.
App localization and app internationalization are two different things. The main difference is which elements they customize.
In app localization, you customize the content of your app.
In app internationalization, you customize your code. The app internalization allows you to modify your codes so that it can easily be localized and released in multiple languages and versions.
As you can see, while app localization and internationalization are different, they are related and dependent on each other.
Why is app localization important?
Now, you know what app localization is, it is time to know why it is important. Here are seven reasons why you need to perform app localization.
1. English is not the only language for your app
There's no doubt that English is the most widely spoken and understood language in the world. According to a Wikipedia article, in the 2000s, there were over two billion people who speak English.
If you're reading this article, there's a good chance that English is not your native language. This is because a large portion of English speakers are not really native speakers. So, English is not only spoken in English nations, but also in other places where English is learned or acquired.
One thing you need to realize is that as much as English is a popular language, not all smartphone users are English speakers or at least native speakers. Some can't even understand much of the English language.
It is estimated that by 2021, there will be about 3.8 billion smartphone users in the world and the majority of them will not be in the United States, but in other parts of the world.
Both the App Store and Google Play Store recognized this trend. That's why the App Store is available in 175 countries and 39 languages.
These languages include the following:
Arabic
Catalan
Chinese (Simplified)
Chinese (Traditional)
Croatian
Czech
Danish
Dutch
English (Australia)
English (Canada)
English (U.K.)
English (U.S.)
Finnish
French
French (Canada)
German
Greek
Hebrew
Hindi
Hungarian
Indonesian
Italian
Japanese
Korean
Malay
Norwegian
Polish
Portuguese (Brazil)
Portuguese (Portugal)
Romanian
Russian
Slovak
Spanish (Mexico)
Spanish (Spain)
Swedish
Thai
Turkish
Ukrainian
Vietnamese
For a full list of the countries where the App Store is available, please go here.
On the other hand, the Google Play Store accommodates 51 languages, which include Afrikaans, Amharic, Arabic, Belarusian, Bulgarian, Catalan, Chinese (Simplified), Chinese (Traditional), Croatian, Czech, Danish, Dutch, English (UK), English (US), Estonian, Filipino, Finnish, French, German, Greek, Hebrew, Hindi, Hungarian, Indonesian, Italian, Japanese, Korean, Latvian, Lithuanian, Malay, Norwegian, Persian, Polish, Portuguese (Brazil), Portuguese (Portugal), Romanian, Romansh, Russian, Serbian, Slovak, Slovenian, Spanish (Latin America), Spanish (Spain), Spanish (US), Swahili, Swedish, Thai, Turkish, Ukrainian, Vietnamese and Zulu.
According to Statista, the most common languages used on the Internet are English, Chinese, Spanish, and Arabic.
Here's a full list with their percentage of internet users: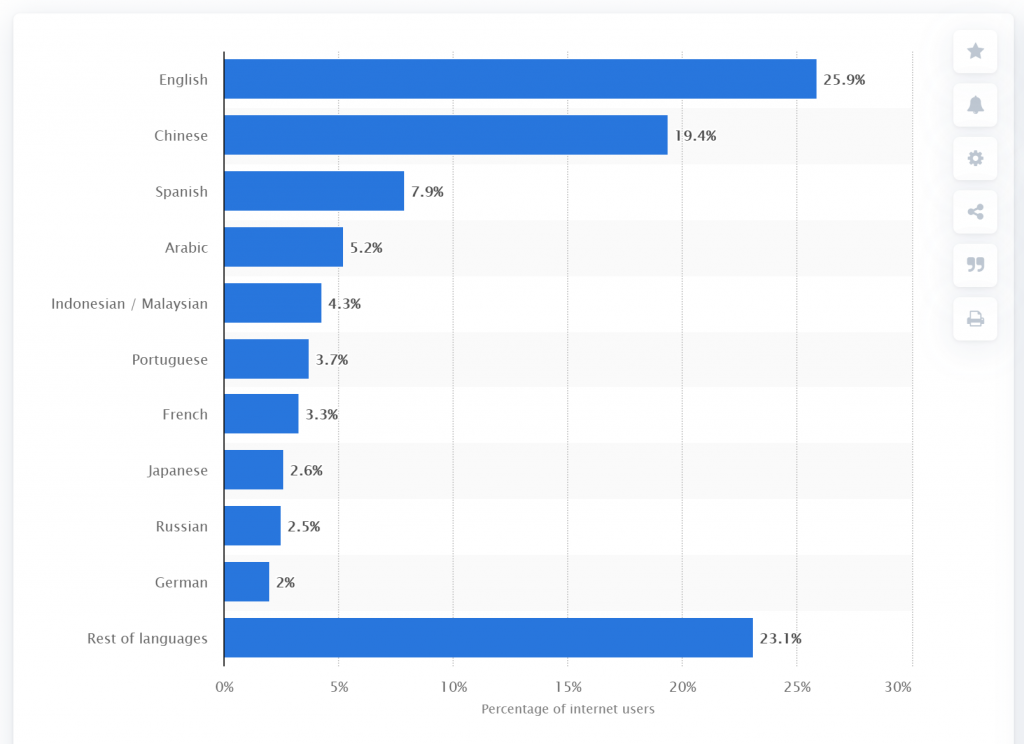 So, if you're going to prioritize which language your app should be in, this list should give you a sense of direction.
As you can see, while English is a widely known language, it's not the only language available in both App Store and Google Play Store. For this reason, you are missing a lot of business opportunities if you're going to limit your app to one language.
That's where our second point comes in.
2. You get to access the global market
According to Allied Market Research, "The global mobile application market size was valued at $106.27 billion in 2018, and projected to reach $407.31 billion by 2026, growing at a CAGR of 18.4% from 2019 to 2026."
As you can see, the app industry is a multi-billion goldmine that is waiting to be explored and taken advantage of by a lot of various companies.
But here's the thing: did you know that the majority of app users in the world are not located in the United States?
Take a look at this 2017 report released by App Annie:
As you can see, the countries with the most apps installed on their phones are Japan, China, France, and Germany. The United States is only fifth in the ranking.
What does this tell you? It proves that app localization is one of important elements of ASO, which can dramatically increase your number of downloads and users.
Here's another graph from the same report. It shows you the average time people spend on their Android mobile apps.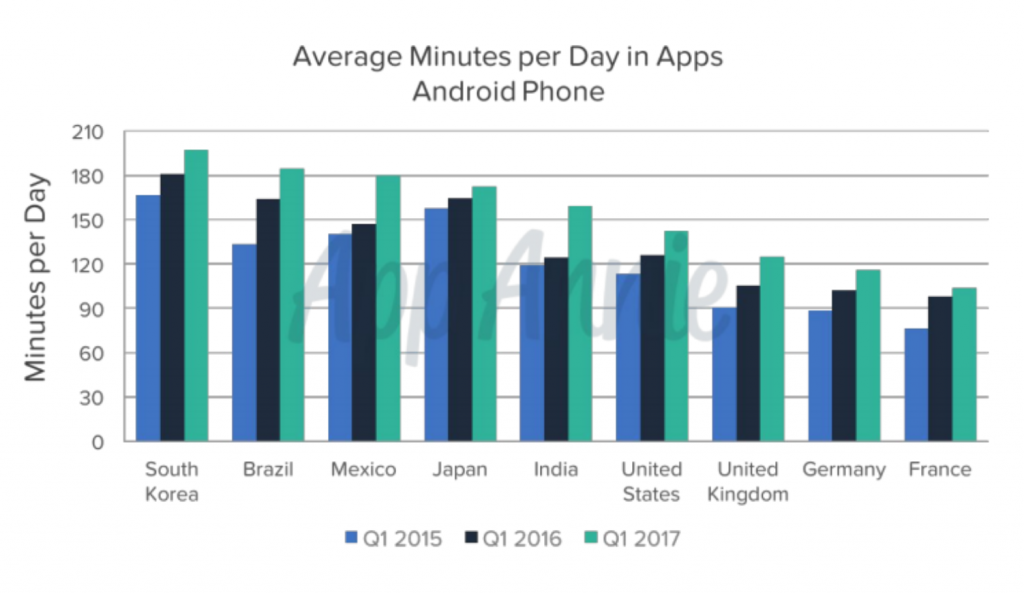 South Korea, Brazil, Mexico, Japan, and India lead this category. The rest includes the United States, the United Kingdom, Germany, and France.
In a separate report made by Sensor Tower, China has the largest app downloads, which is equivalent to 45% on a global scale. Just to give you an idea, 45% of the global downloads is equal to around 95 billion downloads. Now, that's really huge!
Aside from China, India is the fastest-growing mobile app market. It has seen an incredible 190% growth in 2016. In 2019, about 20 billion apps have been downloaded in this country.
The United States is consistently seen as a mature market which accounts for 12.3 billion downloads and has a yearly growth of 5%.
Other countries to watch out for would be Brazil and Indonesia, which has 40% and 70% growth respectively. This reflects the inevitable rise of Brazil and Indonesia to become a mature app market in the near future.
3. App Localization personalizes your app
A lot of smartphone apps today can easily be downloaded and uninstalled after just a few minutes of use. While there are a lot of factors that affect app retention, you can be almost certain that people uninstall apps because they feel it is not for them.
What's the solution? App localization.
When you localize, you are personalizing your app so that it specifically addresses the needs and preferences of a certain group of people. As you change and design your app to meet the varying language and cultural expectations of your users, there's a good chance that they will download your app and use it for a longer period of time.
Now, don't think of app localization as something that you can do with a simple Google Translate. As you may know by now, Google Translate can only do much. When you use Google Translate, some words may easily be translated, but the thought, purpose, and motive behind those words are lost.
That's why app localization is super important. It does not only translate, but it also brings your message in a clear and understandable manner.
App localization allows you to modify your app in every way possible, from currencies to units of measurement, from simple sentences to idiomatic expression, and even from images to videos.
When users see your app is specially made for them, they can make a unique connection to your app, and guess what happens after that? You'll have more loyal users who will keep on using your app.
4. App Localization prevents misunderstanding
People can vastly differ depending on which location they are in. Because of cultural and language barriers, miscommunication can easily happen.
App localization is there to prevent potential problems that may arise due to the difference in cultural norms and languages.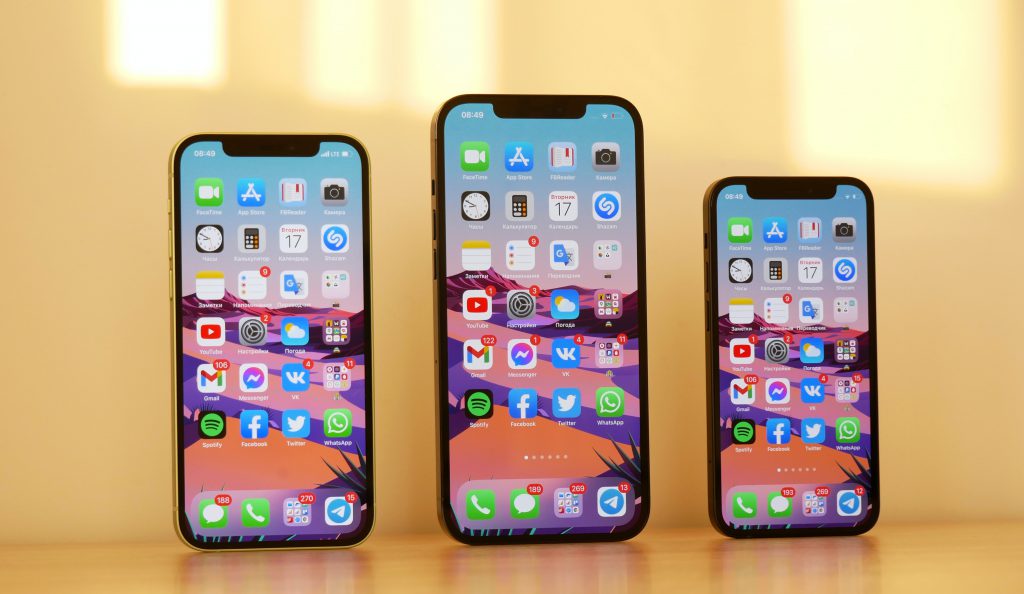 For example, some gestures and symbols may be perfectly fine in the US but can be super offensive in other countries. In the same manner, there are certain traditions and beliefs from other countries that can be offensive in the US or other parts of the world.
If you are not careful, the images, videos, expressions, and statements in your app may send a wrong signal to your potential users. The last thing you want to happen is to have an app that's making people angry instead of becoming happy.
With proper app localization, all these problems are anticipated and prevented. Or when it happens, the negative effects can be minimized.
5. App Localization leads to increased app revenue
There's a reason that many big companies extend their business on a global scale. They understood very well that limiting their reach in their local area will only limit their growth and therefore, their income.
That's why it is not difficult to see that app localization increases your earning potential.
To further convince you and ensure this point is taken seriously, check out this graph we got from Statista:
This graph shows countries with the highest amount of spending from 2017 to 2022. The figures are in the billions of U.S. dollars.
Which country spends the most money on mobile apps? It's not the US, but China. While the US is predicted to spend 29.7 billion in app purchases in 2022, China is predicted to spend twice as big as the US, with a projected amount of $62.4 billion.
According to the graph above, the US is the second largest mobile app market. Even if this is the case, you can't ignore the countries in third, fourth, and fifth spots.
If you add the predicted growth of app consumption of Japan, South Korea, and Germany, you have a combined number of $31.5 billion. That's bigger than the United States' market value.
Now, what happens if you add China into the equation? You are going to miss the $93.9 billion app market if you're just going to focus on the US.
As you can see, app localization will no doubt open a floodgate of income potential for you.
6. Increase app ranking
Needless to say, app localization will eventually increase your app ranking. Both the App Store and Google Play Store take into consideration your app's localization status when providing search results.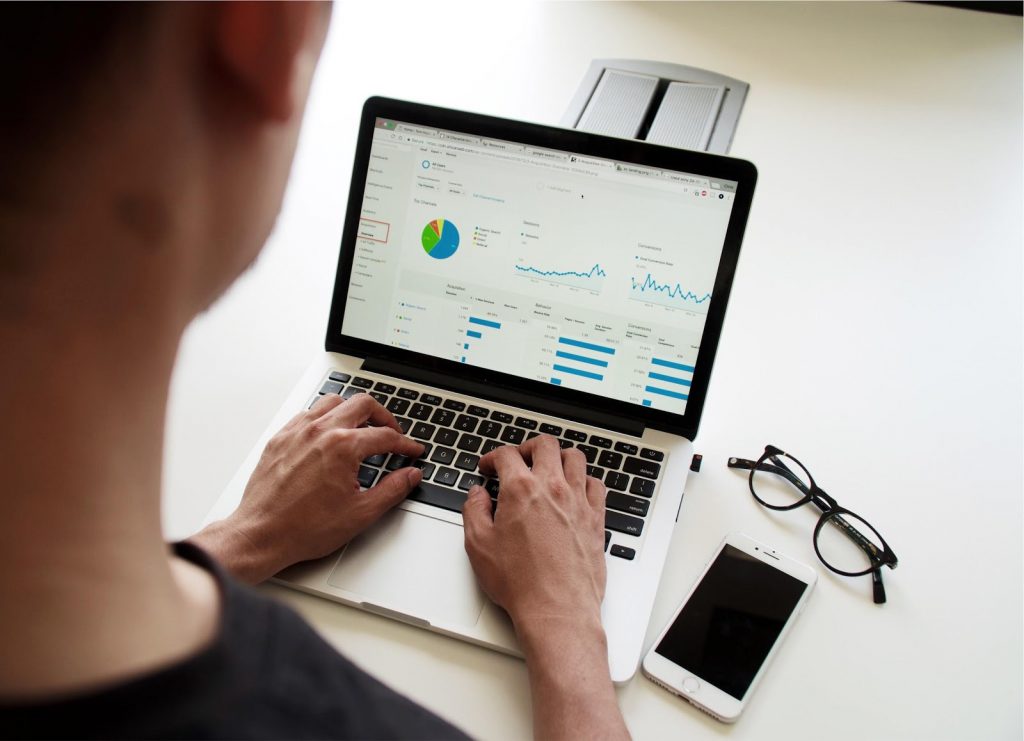 Obviously, when a user is from China and searches for a certain app, it will prioritize an app in Chinese. So, if your app is available in the Chinese language, then your app should easily pop up on the first page of the search result.
7. Overcome fierce competitions
Consider this: there are about 1.85 million apps available in the Apple App Store and 2.56 million apps in the Google Play Store.
So, what is your chance of getting noticed in a very crowded market?
Pretty slim, right?
Especially if you're just new to the game and you haven't made a name for yourself yet.
Here's the thing: if you're going to do app localization, you dramatically increase your chance of dominating a certain country or language. When you do that, it would become a launching pad for you to eventually dominate other regions.
Like what was mentioned above, app localization would also improve your app ranking. When you combine all those positive effects working together, then you will most certainly obtain the edge over your competitors. You'll be on your way to becoming number 1 in your niche, not just regionally, but globally.
Perform App Localization Now
Now that you know what app localization is and how it can help your business, there's only one thing you should do: start the process now.
The earlier you start app localization, the bigger your chance of achieving your goals. Don't forget to localize every aspect of your app that includes the app title, subtitle, app description, app store keywords, and features . Not only that but be sure to consider cultural differences and societal norms to ensure your app perfectly fits in the life of your target audience.
Here's a great example of Evernote's localization effort. It's their French listing that effectively shows you what localization is all about.
App localization is no doubt an important aspect of your app's success. When you perform app localization with other ASO techniques and strategies, you will have a better chance to increase your app's ranking, gain more downloads, and increase revenue.