App store keywords play a vital role in ensuring that people discover your app. With the right keywords, you can easily increase your app ranking, visibility, number of downloads, and conversion rates.
In the world of mobile apps, it is not enough to simply have the best app. You also need to have the right App Store Optimization (ASO) strategies and part of that is optimizing your keywords.
So you might wonder, "What are the best tips to optimize your app store keywords?"
Thankfully, that's exactly what we are going to focus on today. ASO is no doubt a huge topic, but for now, let us focus primarily on optimizing your keywords in the Apple App Store.
App Store Optimization and keywords
Generally speaking, people can use search engines such as Google, Bing, and Yahoo to find apps. When these search engines are involved, the process of optimizing keywords is part of Search Engine Optimization (SEO).
On the other hand, when people are searching for apps in the Apple App Store and you aim to optimize your keywords, the process is part of the App Search Optimization (ASO).
You can't talk about ASO without mentioning keywords. That's why it is crucial to optimize your app store keywords to successfully execute your ASO plans.
Why app store keywords are important?
App store keywords are important because they are the bridge that connects your app to your users when they use search engines.
As you may already know, people who search for something on the Internet use words and phrases. When those words match the words on your app store page, then the search engine would recognize your page as relevant to the search query of the user, thereby, putting your page on top of the result page.
Here are some crazy stats you should remember when understanding the importance of app store keywords:
About 70% of app store visitors use the search feature of the app store to find their needed app. Not only that but 65% of downloads made in app stores are a direct result of a search.
As you can see, you can never underestimate the power of app store keywords and you should include them in your marketing strategy.
In the Apple App Store, there are more than 2 million apps to choose from. The competition is fierce and if you can't improve your app ranking, your app can easily lose its visibility.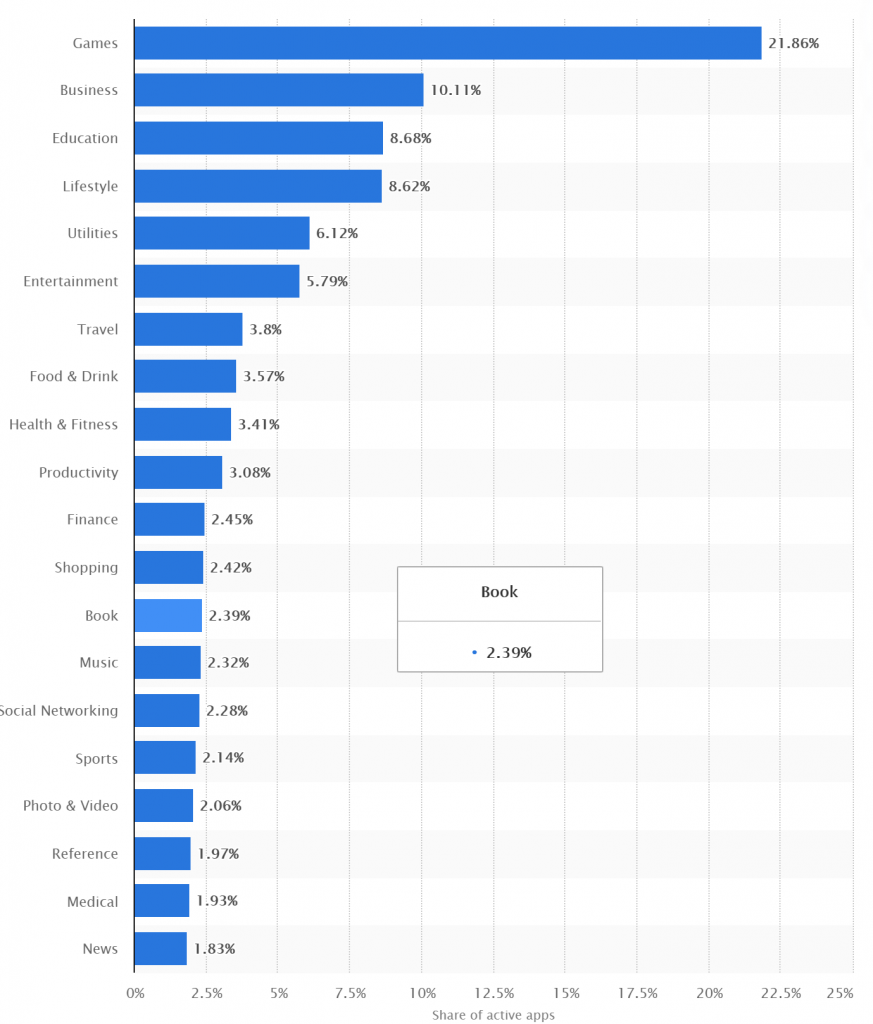 Optimizing your iOS app keywords is among the most effective keys to achieving your goals in the Apple App Store. Ignoring it would be detrimental to your app's success.
15 quick tips for app store keyword optimization
Now, let's go to the core of our discussion today — how to optimize your keywords in the Apple app store. In this post, let us focus on quick tips so you can improve your keywords in the most convenient and fastest way possible now.
1. Use the app store keyword tool for research
The very first thing you need to do is know which keywords to use. You might wonder, "How do I find the right keywords?"
Now, there are a lot of ways to generate keywords, but one of the best ways to do that would be by using keyword research tools.
Thankfully, there's no shortage of app store keyword research tools available in the market today. Here are some of the most prominent ones:
You can gather as many keywords as possible and then simply narrow them down afterward. Once you have your core keywords, you should be able to identify which of these keywords you want to add.
2. Look for keywords from other sources
Aside from using keyword research tools, there are other places you should check as well. Here are some of them:
In your head
In your team
App store search results
User reviews
Apple Search Ads
Competitors' apps
3. Use keywords relevant to your app
Relevant means that your keywords should best describe what your app does, its core functionalities, and all features.
The problem with using irrelevant keywords is that it will hurt your app ranking in the long run. Yes, you may increase your discoverability and download rates. However, if users immediately discover that the app they downloaded isn't the app they are actually looking for, they would soon uninstall your app.
Uninstall rate can dramatically hurt your app ranking — which is something you don't want to happen.
4. Think like your customers when choosing keywords
Your customers and users should be front and center when you're coming up with your keywords.
Think about what keywords your customers might use when looking for a type of app.
Ask these questions:
What words best explain your app?
What are the keywords that describe the services that you provide?
What problems are your customers trying to solve?
When you answer these questions, you should be able to find better keywords to use.
5. Balance both generic and specific keywords
Generic keywords are super effective in reaching out to a wider audience. However, the problem is that it may include people whom your app doesn't directly serve.
With specific keywords, you can target a smaller group of people. It is super effective in improving your download and conversion rate. However, if you choose too specific keywords, your app may not be easily discovered.
As you can see, both generic and specific keywords have their strengths and weaknesses. Thus, be sure to add both types of keywords to ensure you reach as many people as possible while ensuring they are the right people for your app.
6. Add keywords in your app name
Your app name is not only the name of your app, but it also plays a vital role in your app's visibility. Thus, as much as possible, you need to add your primary keyword in your app's name.
Notice how YouTube didn't settle with simply putting "YouTube" as their name. Rather, they also included "Watch, Listen, Stream." It's one of the best practices of app keyword optimization.
Here's another example. If your app is a photo editing app, then you can add the keyword "photo editor" in your app name.
Let's say your app's name is "PhotoEx." You can write your app name as "PhotoEx – Photo Editor." This highlights not just the creative name of your app, but also its main function and the keyword.
Remember, you are only allowed to use 30 characters in your app name. So, be sure to maximize the space.
7. Add keywords in your app subtitle
Your subtitle should also contain your keywords. Notice how Messenger used keywords on their subtitle.
They used the keywords "text", "audio and "video calls." This does not only tell users what Messenger is all about, but also it uses primary keywords for ASO.
Still using our example earlier for an app named "PhotoEx," you can use a subtitle like "Edit Photos Instantly." Here you have "edit" and "photos" as your keywords while ensuring your subtitle gives you more details about your app.
You can also only use 30 characters in your subtitle, too. Remember as well that your app name and subtitle bear more weight than your keyword field. So, be sure to prioritize your app name and subtitle when it comes to the keyword optimization process.
8. Get familiar with the keyword field
The Keyword field is unique to Apple App Store. You see, search optimization keyword for Play Store understandably would use a similar algorithm they use in their Google Search Engine. So, in Google Play Store, they take into consideration all keywords from your app name to your description.
This is not the case in the Apple App Store. They have dedicated a keyword field where you can enter all your keywords. The keyword field, therefore, is one of the most important pieces in your keyword optimization effort.
9. Don't use special characters in the keyword field
The keyword field only allows you to use 100 characters. Thus, you need to maximize this limited space.
One particular important reminder is that you shouldn't use special characters such as @, #, $, %, and &. Special characters don't have any bearing on search results. It will only consume precious space.
10. Use numbers in your app keyword field
Another way to maximize your keyword field is by avoiding the use of number words. So, use "1" instead of "one," "2" instead of "two," "3" instead of "three," and so on.
Numbers, whether written in words or not, would have the same impact on your search. So, it is better to use the shorter one to save space.
11. Don't use space in your keyword field
Apple itself discourages app managers to use space in separating their keywords. Instead, the use of commas would be enough.
Moreover, please note that though you shouldn't use space in separating keywords, you can use space to separate words within keyword phrases.
Apple gives this example: Property,Real Estate,House.
As you can see, the word "Real Estate" is separated by a space. This is acceptable since "real estate" is a keyword phrase. Nevertheless, to separate the keyword "real estate" from the rest of keywords, a comma should be used.
12. Don't use duplicate words in the keyword field
Keyword stuffing is no doubt a trend in the past, but it shouldn't be a practice when adding keywords in your keyword field. Duplicates don't add value to your app ranking, but it will only use precious space of your keyword field.
Instead of using duplicate words, use synonyms or related words.
13. Don't use category name in the keyword field
Category names have a special place in your overall ASO strategy. However, it shouldn't be in your keyword field. Using the same category name on your keyword field would be redundant and won't help much in your app ranking.
14. Avoid unnecessary words
When adding the best keywords for the App Store Optimization, it won't make sense to add connector or stop words such as "for", "to," "the," "a," "and," and "of." You can eliminate these words already and concentrate on maximizing your keyword field, app name, and subtitle.
Of course, when you're targeting a very specific keyword, you can use connector words. For instance, if you want to rank for the keyword, "art of war," then, by all means, include the word "of."
15. Update your iOS keywords regularly
Keyword optimization isn't a one-time event. It should be done regularly. The reason is that Apple's keyword ranking algorithm changes every now and then. Not only that but there would be new competitors who would enter the market and compete against your ranking.
As you can imagine, app ranking isn't written on rocks, but they constantly change. This means you need to check your keyword's effectiveness on a regular basis if you want to stay on top of your competition.
When updating your app keyword optimization strategies, be careful not to make drastic changes. This can negatively affect your app ranking. Rather than changing everything or almost everything, be sensible enough to only change the things you're confident enough that will lead to better results.
In this case, making wild guesses may not be helpful. In addition to that, it's very important to measure and quantify your ASO efforts. That's why it would be a good idea to use App Store Optimization tools such as Metrikal, one of the best ASO Performance and KPI tools.
Succeed with app store keyword optimization
There you have it! These are some of the best and most effective tips for you to remember when optimizing your app.
No doubt: choosing the right ASO keywords, placing them in the right places, and improving its usage isn't a walk in the park. In fact, you would need a lot of patience and attention to detail. However, if done right, your app would surely succeed with more loyal users, consistent stream of downloads, and increased return on investment.