When it comes to measuring your ASO success of your mobile app or game, you need to be tracking the essential ASO KPIs (App Store Optimization Key Performance Indicators) very close. Without the right data, you will be left groping in the dark and making decisions based on assumptions. So, if you want to make data-driven decisions for your ASO strategy, you must always keep track of important KPIs.
The question is that how can you track KPIs for your ASO efforts? That's exactly what we are going to discuss in this article. Keep on reading to discover how you can improve your optimizations.
To be able to explain how to track ASO KPIs easily, we will be listing the essential KPIs you need to track and how to do it with the Metrikal below.
1. Total installs
First of all, you must know the number of people installing your app on any given day. You should see trends, whether the number of installs is going down or up on a daily, weekly, and monthly basis.
Total installs allow you to determine if the overall ASO campaign and strategies are effective or not. You can also easily identify which changes had an impact on higher install volume as well as the changes that did not help you reach your goals, or even worse, led your installs drop.
2. Organic search installs
When users find your app and install it without any influence of your paid efforts, it is considered as an organic search install. On the other hand, non-organic search installs are influenced by ads.
In most cases, you want to drive as many organic search installs as possible. The reason behind this is that users who install your app organically are considered high-value users. They are more engaged and more likely to be committed to using your app. After all, they are not prompted by any ads to download your app, but they did it with their own will and motivation.
Aside from being more engaged, organic search installs help you decrease your costs. It is a cost-effective way to gain and retain users without resorting to paid ads. To sum up, organic search installs are more sustainable and lead to the increased chance of long-term success.
3. Apple Search Ads installs
Search ads on Apple are not free of charge. You pay Apple in the hopes to gain more customers and users in the quickest way possible. Now, obviously, you want to know whether Apple Search Ads is working for you or not and if yes, how effective it is for your app.
A few things you want to pay attention to when it comes to Apple Search Ads are the following:
Total Apple Search Ads Installs – Installs that the app received from Apple Search Ads.
% of Installs from Apple Search Ads – Apple Search Ads Installs divided by Total Installs from Search.
Cost USD (Apple Search Ads) – Apple Search Ads spend.
CPI (Apple Search Ads) – Apple Search Ads cost per install.
4. Source of installs
Your app might be installed from various sources. It could be from app store search, app store browse, app referrers, or web referrers. Knowing where your installs are coming from allows you to redirect your focus, energy, and money.
For example, if you are promoting your app through your website and getting people from your website to your app store page, and eventually installing your app, you can conclude that your web promotion is effective. You can compare that data to other sources. Then, you can decide to strengthen your web presence and refocus your energy on that channel, especially if you have limited resources, or you can focus on other channels to have similar success on them as well if you have additional budget.
That's just one scenario. If you know where your users are coming from, you can better take advantage of those sources and drive more installs in the process. However, following all the sources separately might be frustrating. That's why Metrikal comes in handy and helps you track installs from different sources in one dashboard.
Here's a quick look at the intuitive dashboard of Metrikal:
As you can see below, you'll quickly find the number of installs and the changes in your numbers on a weekly basis.
5. Ratings
If you want to know what your users think, you need to keep a close eye on the ratings. As part of your KPIs, ratings can help you know what you are doing well and what you need to improve or fix immediately. Besides, having high ratings and great reviews impress a lot of potential users and influence them to download your app. The opposite can also happen. Bad ratings and reviews can pull your app ranking down. So, you definitely want to measure, track, and analyze your ratings if you want to improve your app's performance. The algorithm in the App Store also rewards the apps with better ratings for their keyword rankings, while punishing the apps with bad ratings. Thus, having higher ratings help you reach your goals in terms of the keyword rankings.
When it comes to ratings, there are a few data categories you should be familiar with:
Cumulative Average Rating – Average of all star ratings that the app has received so far.
Cumulative Rating Count – Total number of all ratings that the app has received so far.
Weekly Rating Count – Total number of ratings that the app received in that time period.
Average Rating – Average of star ratings that the app received in that time period.
Ratings per Install Rate – Rating count in that time period divided by the same period's total install count. This is a good indicator of the app's rating velocity.
#-Star Rating Count – Number of #-star ratings that the app received in that time period.
6. Impressions
Impressions refer to the number of times your app is shown in various places in the App Store such as the categories, featured apps, top chart, and the product page.
When you have high impressions but low downloads, then it means you're not converting users effectively. They might see your app, but not interested enough in learning more about and eventually installing it.
That's why it is very important to measure impressions. It gives you an idea of whether you need to improve your description, app icon, screenshots, or app previews, just to name a few.
Here are a few things you need to track when it comes to impressions:
Total impressions – Number of times the app had an impression (app icon, app title and screenshots) throughout the App Store.
Total Page Views – Number of times the app's store listing page was visited by users.
Impression-to-Install Rate – Percentage of users who installed the app after seeing an impression of the app throughout the App Store.
Pageview-to-Install Rate – Percentage of users who installed the app after visiting the App Store listing page. (In some cases, this can be higher than 100%. This happens when a good amount of installs come directly from an impression without a pageview.)
Impression-to-Pageview Rate – Percentage of user who visited the app's store listing page after seeing and impression of the app.
The good thing about tracking these metrics on Metrikal is that you don't have to memorize them and calculate each of them every single time. You can just see them on our dashboard with one click.
7. Keyword rankings
Perhaps, one of the most important ASO KPI you need to track would be your targeted keywords. You possibly can not perform effectively on ASO without tracking target keywords.
Just to review, keywords are the words and phrases people use while searching different apps both on the App Store and Google Play. So, when people try to look for fitness apps, they may use keywords such as "workout exercise," "fitness apps," "lose weight apps," "bodybuilding at home," "health app," and other related keywords.
In short, keywords connect users to relevant apps. Thus, it is the primary way for people to find the right app according to what they are looking for, and that's where you should be seen in the top position.
Tracking your keyword performance allows you to see where you are in the competition and the factors that affect your keyword ranking. The higher your ranking is, the higher app visibility. Moreover, keyword research gives you insight into which keywords you should be targeting and which keywords will most likely waste your time and effort.
Now, don't think that once your ranking is high for a keyword, you are done. Far from it. In fact, keyword research is an ongoing process. Whether you're on top or at the bottom of the list, you must keep track of your keyword performance on a regular basis.
You might already be using an ASO tool for this purpose, that's great news! If you are tired of tracking those metrics that your tool provides, you can easily take a look at the performance of your keywords one by one, or see the trend on the number of keywords that your app is ranking in the top categories.
Although you keep track of each keyword, you may still need some more data to improve your ASO performance.
For example, you may need to track and see where and when each keyword is being used in the App Store listing. You may want to do this to keep track of all ASO optimizations and their impact on organic rankings.
You can also track and compare Apple Search Ads metrics (installs, cost, CPI) side by side with organic rankings for each keyword as shown in the example below, considering the reciprocal effect of those two for each other.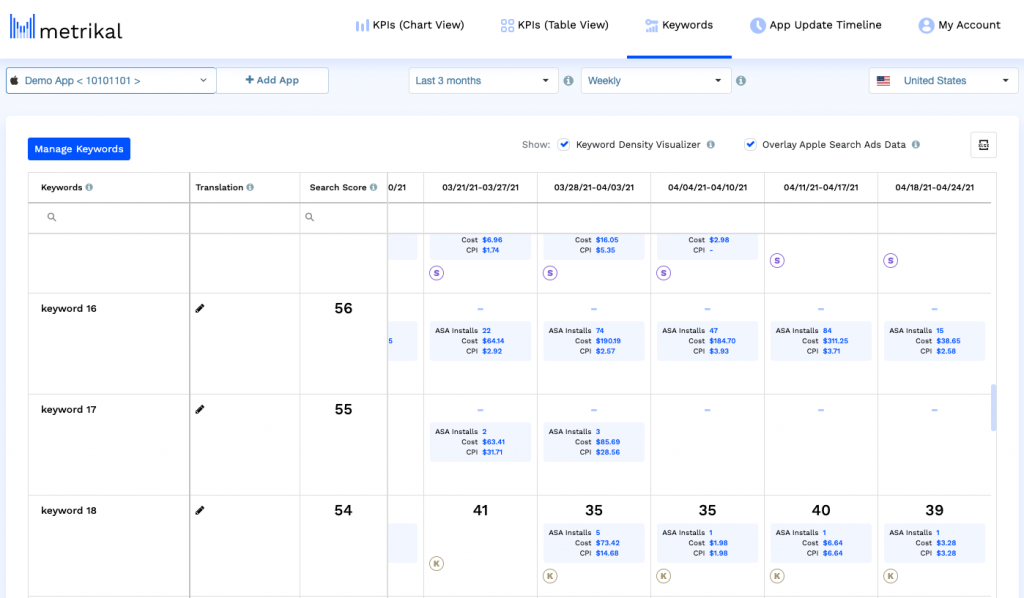 T – This keyword was used in the Title during this time period.
S – This keyword was used in the Subtitle during this time period.
K – This keyword was used in the Keyword List during this time period.
ASA Installs – Installs that the app received from Apple Search Ads for that particular keyword.
Costs – Apple Search Ads spend for that particular keyword.
CPI – Apple Search Ads cost-per-install for that particular keyword.
During your optimizations you might change the textual fields a lot of times, and keeping a track of those changes is essential to understand the performance of your ASO efforts.
8. Crashes
Crashes are perhaps the most common cause why you might get low ratings and bad reviews. It also drives people to uninstall your app. Furthermore, if your app always crashes or sends ANRs (app not responding), app stores would see your app as low quality and not worth featuring on their platform.
Crashes can happen suddenly and subtly. Sometimes, you don't even realize it is happening. That's why you must learn how to track it to provide a solution as soon as possible.
In summary
Success in the App Store and Google Play doesn't happen overnight. It doesn't happen in pure luck. Success is a result of having a deep and good understanding of the processes involved in promoting your app. A big part of that is KPI driven App Store Optimization (ASO).
Remember, there's no single type of data or ASO KPI that would tell you how successful you are. You need to take into consideration all relevant KPIs for you to get the overall picture, and you should have a very good understanding of if you are breaking anything while building something else. Tracking the right data allows you to determine what steps you should take to achieve your business goals and further improve the performance of your app.
Feel free to start your free trial now on Metrikal to track all the necessary metrics on an easy-to-use dashboard, and if you want any further information about the ASO KPIs or the way Metrikal helps to track them, we would be very happy to help you. Please schedule a demo with us for that.