Imagine this:
You spent months developing it and you have created the best app there is.
You have invested not just time, but also sweat, money, and opportunity into it.
You are so passionate about your app that you want everything to be perfect.
And now, the time has finally come when you are going to introduce your beloved app to the world.
You excitedly pushed the launch button…
Then crickets — no one seems to notice your app.
In fact, weeks and months go by, you barely get a few downloads.
Isn't it frustrating? All the hard work and resources you put into your app come to virtually nothing because not a lot of people are using it.
So, what should you do?
What you need to realize
Creating an app is only half of the work you should think about. With millions of apps in existence today, you need to do something more than just launching your app.
The key to your success is to improve your app's ranking. The higher your app's rank is, the more people will discover and use your app. No one's going to use your app if they don't know it exists.
So, what do you do?
How do you stand out from the competition?
How do you attract more users and thereby, improve your app's visibility?
Most importantly, what are the important steps you should take for users to discover your app, download it, and turn users into loyal fans?
Thankfully, the answers are found in this post. When you follow the tips explained in this post, you won't hear any crickets anymore, but soon, you'll hear the cheers of your fans.
So, without any delay, let us share with you 10 surefire ways to improve your app's ranking!
Understand your target audience
You have a great idea, but is your idea something that people would like or use?
A lot of app developers commit the mistake of thinking about what they want to create rather than what people need. This is the main reason that even if you have the greatest app in the world, if people don't need it, then the app won't be in demand.
When developing an app, you should start with your audience in mind. Know their deepest desires, problems, concerns, and dreams. Once you identified a need, then that's where you can start building your app.
It's not the other way around. You don't create an app and hope people will like it. You think of your audience first.
If you have successfully done your research and truly understand your target audience, then you have already laid a solid foundation for your app. You would have an easier time to find more users who will become your loyal fan base.
Understand your competition
Sun Tzu once said, "If you know the enemy… you need not fear the result of a hundred battles."
This is certainly true when it comes to promoting your app. You don't want to blindly create your marketing strategies without knowing what your competitors are doing. Starting from scratch will cost you a lot of time and effort.
Chances are, your competitors could have already figured out what to do and not do. That's where you can begin your marketing strategy. The key here is not simply to follow what your competitors are doing, but actually identify where they also fall short at.
Identify a need and problem your competitors are not meeting effectively. Know as well what you can offer to your users that others can't. These strategies should help you outsmart your competitors and therefore, have an edge over them.
Perform effective keyword research
The majority of people who are looking for apps don't usually know exactly what apps they are looking for. They won't specifically type the name of an app, but rather use keywords to find them.
Keywords are the terms used by people to look for a specific content on the Internet. Keywords are not just useful in search engines such as Google or Bing, but they are also useful in app stores.

When you have the right keywords in your app page, there's a good chance that your app will show up in search results. This will naturally increase your visibility and of course, your app ranking. The more people find your app, the more people who will download it.
Now, keyword research can be complicated at times because of the great competition that exists today. The main goal here is to find keywords that a lot of people are using, but with less difficulty in ranking.
There are a lot of things to know more about keyword research and it is a great topic for another time. For now, know the importance of keyword research in app ranking and make sure you read more about this topic in the future.
Choose the right title
What is an ideal title for your app?
It should be short, descriptive, memorable, and rich in keywords. Let's discuss each of them.
First of all, titles should not be too lengthy. For Google Play Store, you are only allowed to include 50 characters in the app title. On the other hand, the App Store is more generous by giving you 30 characters for your title. [1]
However, please note that, both in the Play Store and App Store, titles are truncated on search results and even on the top chart page. That's why it is so important for you to use short titles.
The next thing you need is that your title should be descriptive. Notice what these popular apps have in common:
Messenger – Text and Video Chat for Free
Zoom Cloud Meetings
FaceApp – AI Face Editor
Spotify – Listen to new music, podcasts, and songs
Video Editor & Video Maker – InShot
Did you notice that these apps don't just stop at mentioning their unique name? They also include a description of their app in the title.
Having a descriptive title allows potential users to know what your app is all about. If all they see is your app name, it takes more time for your users to read through your content — time that users don't want to waste. So, they would simply move on to the next app rather than researching further what your app does.
Moreover, your title should be memorable. It shouldn't be just plain old text, but it must grab people's attention and curiosity. As you can see, this task needs a lot of thinking and creativity. But if you get this right, your app ranking would surely skyrocket.
Finally, you would need to add keywords to your app title. Keywords, as was mentioned earlier, are the terms people commonly use when searching for something in the app store.
According to research, having the right keyword in your title can increase your app ranking by more than 10%.
Remember that a title is more than just the name of your app. It isn't just for your identity, but also for marketing purposes.
Create a compelling description
The description of your app gives you the opportunity to get more users. That's why you should write your description with your audience in mind.
An app description should have the following:
Written for people not for search engines – while it is true that you should include keywords in your description, you should not forget that you're writing it for humans. Sometimes, because people like to stuff as many keywords as possible, their descriptions become unnatural and sound robotic, which can turn off potential users.
Specifically describe your app – be clear to what your app is all about. This is not the time to be mysterious. Tell it like it is. Use simple, easy-to-understand language to connect with your users.
List all benefits – ultimately, users have this basic question at the back of their mind, "What is in it for me?" Users are looking for benefits in using your app and you need to highlight those benefits in your description.
Convincing and persuasive – copywriting is a great skill you can use here. Make sure you wittingly combine words, carefully select terms, and powerfully craft content that will connect to your audience. Your main goal here is to persuade your users to download and use your app.
Be sure to invest a lot of time formulating an engaging introduction of your description. The first few lines of your description should grab your reader's attention and convince them to read the rest of your content.
Include impressive images
Aside from your description, you need to use images to give your audience a better understanding and idea of what your app is all about. The description leads your user to your app, but now that they are on your page, you need images to further convince them to download your app.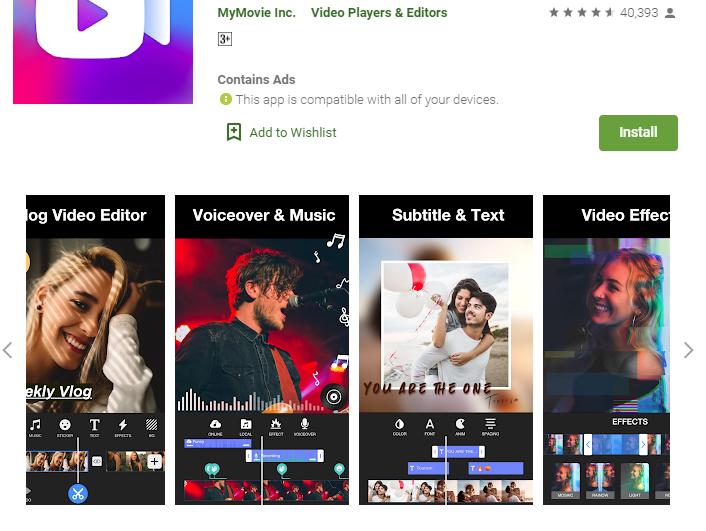 The number of images you can add to your page is limited to a certain number; 10 for iOS app[2] and eight for Android app. In addition, only 2-3 screenshots can readily be seen on your page.
So, carefully choose your screenshots. Be sure the first 2-3 screenshots are the best images that will describe your app.
Put yourself on the shoes of your audience.
Ask, "Will the screenshots I added persuade them to download my app?"
If your answer is yes, then you got yourself fantastic images to feature on your page.
Aside from screenshots, don't forget about your unique icon. This is super important because when users search for apps, the first image they'll see is your icon, not your screenshots.
Your app icon is like a logo. When people see your icon, they should remember your app. A great app icon is something that intuitively tells your audience what your app does, but at the same time, memorable and distinguishable from others.
Include videos
Remember the old saying that "a picture paints a thousand words?" If that's the case, then how many words can videos paint?
You get the point. App Description and images can only bring you so far, but it is through videos that will put the icing on your cake.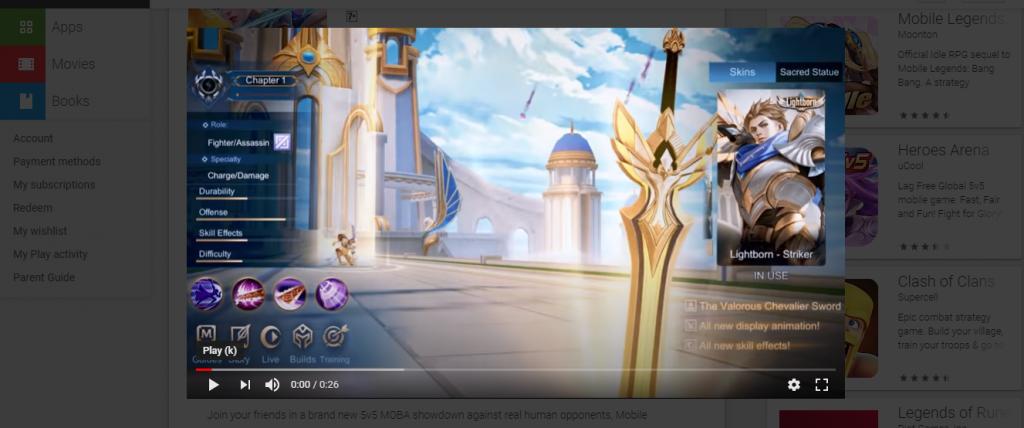 Here's what you need to know: research shows that apps with videos do better by 25%-30% compared to apps that have none. That should be a reason enough for you to consider adding videos to your app page.
Make sure your video features your app's benefits. It should demonstrate how your app works, how people can use it, and how it can meet a need or solve a problem.
Create a dedicated website
If you are serious about growing your app's number of users, then you shouldn't forget about creating a dedicated website for it.
It is true that your app page on Google Play Store and App Store plays a major role in your apps' ranking. However, don't stop there. By having a website for your app, you'll get more streams of traffic that will lead to your success.
There are a lot of things that a website can do for your app. These could be the following:
Improve your brand image
Increase your fanbase
Give you the chance to talk more about your app
Become an authority in your niche or industry
Grow your profitability
Encourage reviews
App reviews can either make or break your app. Obviously, we want positive reviews, but don't detest negative reviews completely.
Look at negative reviews as opportunities for you to improve your app. It tells you potential bugs or errors in your app. It also shows you where you are falling short and how you can further meet people's needs.
The ultimate goal here is to decrease the number of negative reviews. According to statistics, the more positive ratings and reviews you receive, the higher your chance of dominating the top charts.
Update frequently
The competition present in both Google Play Store and App Store is huge. If you don't regularly update your app, you'll soon see your app buried down to obscurity. You don't want that.
App updates play a major role in rankings. Both the app stores and customers value updates as these things don't just correct bugs, but also help meet present and future needs.
As you improve your app's version, you attract more customers and you'll receive more traffic and downloads, better ratings, and increased revenue.
Master your craft
These are just some of the best tips and practices you should remember when improving your app's ranking.
Remember to be patient. Consistency is also key here. Research as much as possible and continue to improve.
You might not get it right the first time you try increasing your app's ranking, but with the right attitude, persistence, and knowledge, you should be on your way to having an app that a lot of people will love!